Non-clickable icons
By default, any point icon that you configure in Fusion displays a pop-up balloon whenever EC users click it. You can configure your pop-up balloons to display information about the point. An example is shown below.
However, if you don't want an icon to display a pop-up balloon, you can use one of Fusion's Advanced options to make it a non-clickable icon. (Non-clickable icons are point icons that don't change when clicked.)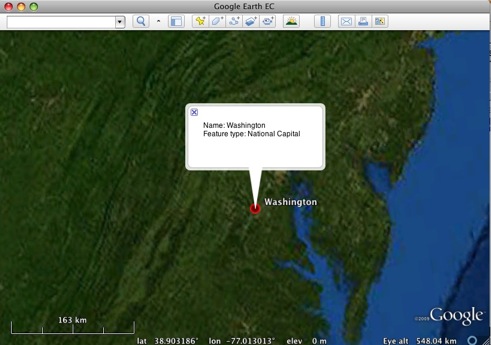 To create a non-clickable icon:
Add a new point vector resource to a vector project. In the example below, the point vector resource is called USA_Cities.

Assign filters, icon types, and minimum and maximum visibility display rule settings to the point layer.

In the Balloon section, change the Style from Default to Advanced.

Leave the Text field and the field that appears below Advanced empty.

Click Advanced. The Balloon Style Text window appears.

Click Insert Default Text.
Remove all text except: $[description].
Click OK twice to exit all windows.
Save and Build the vector project.
Build the 3D database, then publish to Fusion.

You can now view the non-clickable icon in EC.